Under-eye skincare is a tricky subject. Most of us understand how delicate the area is, but oftentimes don't know how to nourish it. Some of us use our facial moisturizer, and some of us leave it as it is. The fact is, our under-eye skin needs its own share of care, with specific products that suit it. The skin here is thin, and lots of blood capillaries run under it, making the under-eye area susceptible to easy darkening, wrinkles, premature lines, and sagging. That is why we suggest taking good care. But how to get the perfect under-eye skincare?
The Dos 
Get Good Sleep: A regular sleep cycle goes a long way in keeping your under-eye skin healthy and rested. Lack of sleep and long bouts of insomnia are often the main culprits behind dark circles.
Moisturize: To keep your under-eyes from losing their suppleness, make sure you use a good moisturizing cream or serum in the area. Those who ignore moisturizing in their youth may suffer from premature signs like lines and sagging sooner.
Sunscreen: Gently pat some sunscreen under the eyes too, so that the skin here is protected from the harmful effects of UV rays.
Massage: Some gentle, regular massage, usually at night before you fall asleep may help keep your under-eye supple and blood circulation firm. 
Cold Packs: Regular cold packs like an ice mask, or ice cubes wrapped in cloth are good when placed over your eyes. They help cool the area, tighten the skin temporarily, and constrict blood vessels. 
The Don'ts
Don't Overindulge in Alcohol: Alcohol consumption has been directly linked to puffy under-eyes and eventual sagging skin. You may have noted how a night of drinking may make your under-eyes all swollen and puffy. So it is best to stay away from too much alcohol.
Don't Smoke: Smoking is one of the main culprits behind fine lines and wrinkles, especially in the thin skin of your under-eye. Quit smoking to not only keep your under-eyes safe but also to prevent premature skin aging. 
Don't rub your eyes too often. When applying a product, dab gently instead of rubbing it in. When removing makeup, use a soft cotton pad, and using gentle, outward motions, remove it.
Don't use alcohol-based skincare products in the under-eye region. 
Don't forget to exfoliate the under-eye skin.
Don't forget Under-eye Cream/Serum: This is a must in your night skincare routine. Under-eye cream ensures that your skin remains nourished and cared for as you sleep at night. It may help repair the damages done to your skin throughout the day — from sun damage to oxidative damage.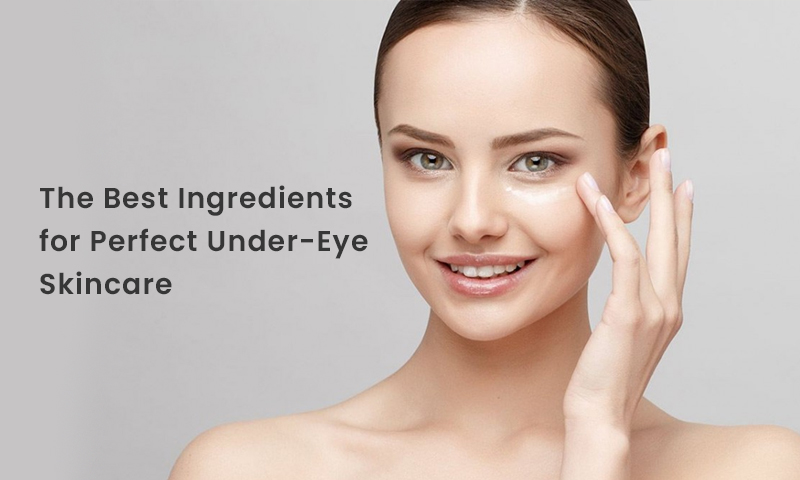 The Best Ingredients for Perfect Under-Eye Skincare
When shopping for under-eye creams or serums, always read the labels carefully. These are some ingredients that are amazing for under-eye care, so make sure you buy something with one or more of these:
1. Hyaluronic Acid
Hyaluronic Acid is found in human joint tissue and is said to be immensely hydrating. It is the acid that increases skin's moisture content, locks it, and helps with skin elasticity. That is why it is essential in under-eye skincare. Choose any cream, serum, or product with hyaluronic acid, and you will see some major difference in the look and feel of your under-eyes. 
2. Green Tea
Green tea is believed to be very high in antioxidants. It is also a great remedy to reduce puffiness under the eyes. So you can either shop for an under-eye cream with green tea, or use steeped green tea bags by freezing them and applying them over your eyes. 
3. Vitamin C
One of the most important vitamins in skincare, this one is often referred to as the 'holy grail.' It helps in collagen production, reduction of fine lines, smoothening of wrinkles, and also helps even out the skin tone. All of these properties make Vitamin C essential in under-eye skincare. Many dark-circle creams have Vitamin C in abundance because it helps brighten up the area. 
4. Arctic Algae & Sea Water Extract
These ingredients prevent the appearance of wrinkles, and also help avoid puffy under-eye bags. They are believed to tone the skin under your eyes. 
Other Ingredients: 
-     For Fine Lines and Wrinkles: Retinoids, Vitamin A, Peptides
-     For Hyperpigmentation: Kojic Acid, Soy, Vitamin B3
-     For Puffiness: Willow Herb, Caffeine
We hope this simple 'dos-and-don'ts blog' helped you plan out your under-eye skincare. If you want to start looking at good and nourishing under-eye creams then check out our Savarnas Mantra Natural Under Eye Cream and Savarnas Mantra Restorative Under Eye Serum, both of which are made cruelty-free, with natural active ingredients, and shipped to 48 contiguous US states.