After a long, tiring day, nothing feels better than jumping in the bed. But not without missing your night skincare routine! Mothers and grandmothers have been stressing this for long generations — the need to clean your skin and nourish it at night before bed. Why? Because your skin cells carry out their repair and rejuvenation processes as you sleep. Here are a few other reasons stating the importance of a night skincare routine:
1. Makeup Removal
Makeup residue at night is a big no-no. It clogs your pores, damages the skin, and hinders new cell production when left overnight. That is why makeup removal at night helps keep your skin healthy.
2. Cleanliness
We all want clean and clear skin as we slip into bed. A shower may help clean the body, but a cleanser and face wash help with keeping the skin devoid of any dust, dirt, and excess oils. 
3. Nourishment
Most great serums are night serums. Why? Because they moisturize, rejuvenate and nourish the skin with essential nutrients as you slumber. Hydrating and anti-aging serums are especially recommended for nighttime, as they help make your skin supple, smooth, and wrinkle-free.
Day VS Night Skincare Routine 
Day skincare routine is meant to protect you from the heat, environmental stressors, pollutants, dust, and sun damage. It is usually heavy on moisturizer and sunscreen.
Night skincare routine is meant to rest, repair, and rejuvenate your skin as it is known to absorb nutrients better at night. Night Skincare Routine is hence heavy on serums, masks, and eye creams.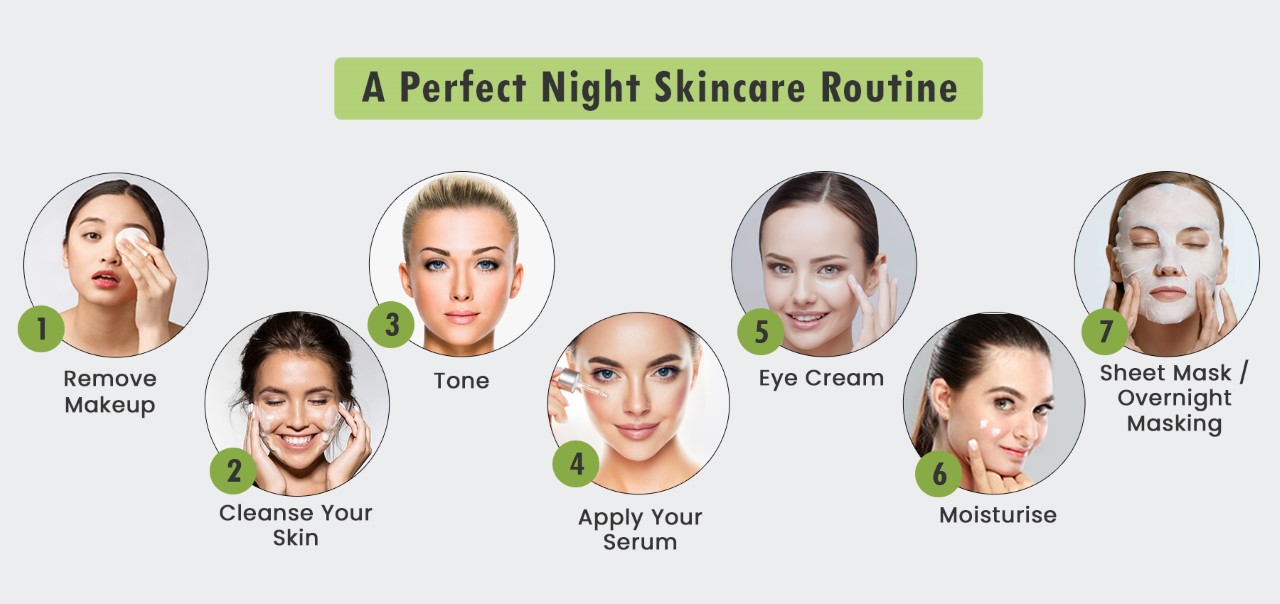 A Perfect Night Skincare Routine:
Remove Makeup
Cleanse your Skin
Tone
Apply your Serum
Eye cream
Moisturise
Sheet Mask/ Overnight Masking (optional)
If you are starting to plan your night skincare routine then there is an amazing brand called Savarnas Mantra, from where you can shop for your skin's nightly requirements. From moisturizers to serums, and toners to cleansers — Savarnas Mantra makes its products from natural active ingredients, and believes in doing so without harming animals.